Hey guys I am planning to place my first custom select order. A little bit of background, my mom passed away in January and was a big supporter of me and my music. I have always thought about getting a custom Jackson so I thought it would be great to have something to remember her by and allow her to continue supporting me. I live in Vancouver, Canada and on the Jackson website the only Canadian retailer is
Tundra Music
in Toronto. I called them and and talked to Matt and sent in a spec sheet to get a quote. I wanted to find out about the process and approximate pricing, but it sounded like he needed to talk to the shop more first. My understanding of the process from reading posts on here is that you send in your spec sheet, Jackson quotes you a price and time, then you make a deposit of 80% (?), and then you wait until it gets built, pay the rest of the cost and then claim your prize. Has anyone else in Canada bought a guitar through Tundra and how was the experience? I was thinking to call a few of the guitar stores in Vancouver to see if they can do custom select orders so it is easier to deal with. Any other Canadians or Vancouverites have recommendations on a store if there are other ones? What was the pricing like in CAD? I am expecting easily $4000-$5000.
I also have some questions about specs. I am going to order a Kelly and these are the specs I've decided on. There are a few things that I want to find out more about underneath.
Body: Kelly, trans red burst with flame maple top
Neck: Maple, Ebony fretboard, shark fins, matching body, 6 in-line headstock, black binding, natural oil, speed neck (?), 24 jumbo frets
Hardware: Black, recessed Floyd Rose, 1 vol w/ 3 way toggle, Seymour Duncan Black Winter set with black pickup rings
All in all the build is pretty standard. I was thinking to go really wild with abalone, reverse headstock, reverse sharks, pretty much any of the specs that you can't get on a production run Jackson. But, I am definitely more of a traditionalist and think it would be a little over the top for me. I know there are a bunch of trans coloured KE2s out there that will have pretty close specs to what I want so if anyone wants to get rid of one before I place an order let me know.
1) I own a KEXMG and the controls are a bit tighter together than on a KE2 and they are tucked more out of the way under the trem. I am for sure going 1 vol and 3 way toggle. Does that mean I should spec 1/2" back on my custom select order? Alternatively, I was thinking to put the volume where the tone is and have the switch where the volume is or some variation of that so it is easier to change pickups and I won't bump the volume knob.
2) I think I will prefer having the strap button in line with the centre of the guitar rather than further up the horn which is only done on the US Kellys. Anyone else able to spec that before? I did see a thread on how the weight/neck dive changes if the strap button is higher, but it looked like it depended on the guitar and person. My KEXMG sits perfect. If you have a US Kelly, how do you find the higher strap button?
3) I was doing some reading and it sounds like the Kelly should have a speed neck but the 12th fret dimension on the spec sheet is different than the Warrior and King V. Someone suggested it may be a typo on the newer versions of the spec sheet. I am going to measure the neck dimensions on my KEXMG to see how they compare to the ones on the order sheets to check if the feel will be similar. The
KEXMG write up
says speed neck. Can anyone confirm if it is a speed neck on the custom select?
4) A long time ago I wanted a Kelly in trans green cause there was one in the catalog I had. I also really like the Chlorine Burst. However, I think red is more my colour and the burst on the
Corey Beaulieu V
looks deadly.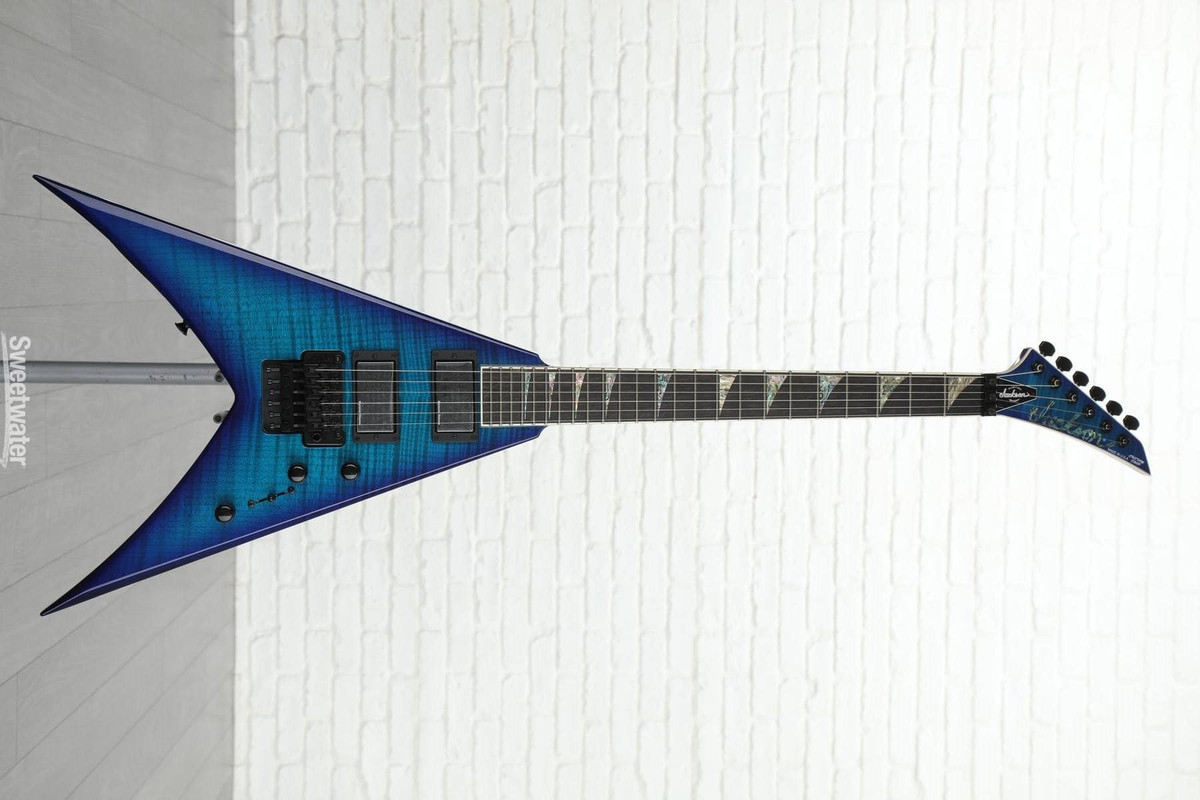 Sick trans green KE2 Corey Beaulieu signature V in trans red burst synapsistheory's chlorine burst king V \,,/
It's a tough choice between trans red, green, and blue (all the KE3 colours haha). In regards to the trans red burst I'm sure they will do a great job. I just don't want it to look like this... LOL
Does anyone know of any trans reds that have the same fading style as the chlorine burst? Clearer red to more opaque red. Chlorine burst style may end up being more pink anyway. I think the trans red burst will do the trick if it is just dark on the edges. Like I said I don't want it to be too dark like above... Straight trans red seems too abrupt and flashy and Corey's V looks deadly! Does the custom shop accept additional info for getting the colour perfect? (I'll get them to reference that pic)
5) The last thing, I was going to spec ivoroid binding until I saw these photos of
MNash87's Kelly
and didn't really like it with the red. Then I found this
Kelly on Reverb
that makes me think it could be okay... The Corey Beaulieu V has black binding and it looks wicked so I'll probably just do that though. I just find the black binding on ebony seems kinda dumb. On an unfinished neck it might make more sense cause you will see it between the wood and the finish. Any thoughts?
MNash87's trans red Kelly Reverb trans red burst Kelly
If you read all the way to the bottom, thanks! Otherwise, I hope you at least got to see some sweet guitars. Thanks for your help in advance.
Cheers \,,/