Hello, first post here, 34 year Charvel owner.
( Apologies, the thread title says 1988 but after getting going on this thread and looking through photos and letters I remembered it was actually a year earlier when I purchased the guitar.. and turns out the guitar, according to researching the serial number, is actually a 1986 vintage. )
In any case, I worked on an oil tanker one summer in 1987and found myself in a music store in Singapore. Japanese electronics everywhere. I was flush with cash from the tanker gig, so went about shopping for a nice guitar. They had a black model 6 with a Kahler on the wall. It was light and resonant, but I really wanted a red one so the sales guy went back and got me one. This one had a Floyd Rose. It was beautiful,
That wide flat neck was no joke, I loved how finger finger style you had lots of room to grip the strings.
And of course it practically screamed at you to maybe go a little faster than you would play otherwise, it was so buttery smooth with brand new super jumbo frets. And the neck thru design of the Model 6 looked so sleek and cool from the back, and that early Floyd Rose allowed you to pretty much go nuts and not go out of tune. And the workmanship was so good. The shark fin inlays and neck binding were so precise, and the finish was so damn glossy smooth, I don't know, it looked like a Ferrari with strings to me at the time.
Over time, the Ferrari red body had deepened to a darker richer red, and the bright white neck binding had darkened to a vintage-ey cream color. But at this point the fretboard was shot. Finally took it in for some work.
And last week finally got it back, the guitar I've probably spent the most time playing on (mostly, with a pre-Gibson Mesa Boogie studio pre).
Neck is like new now, Plek'td with stainless steel frets (so arguably better than new?

)
Rosewood + abalone inlays cleaned up real nice as well. Awesome!
Before:
After: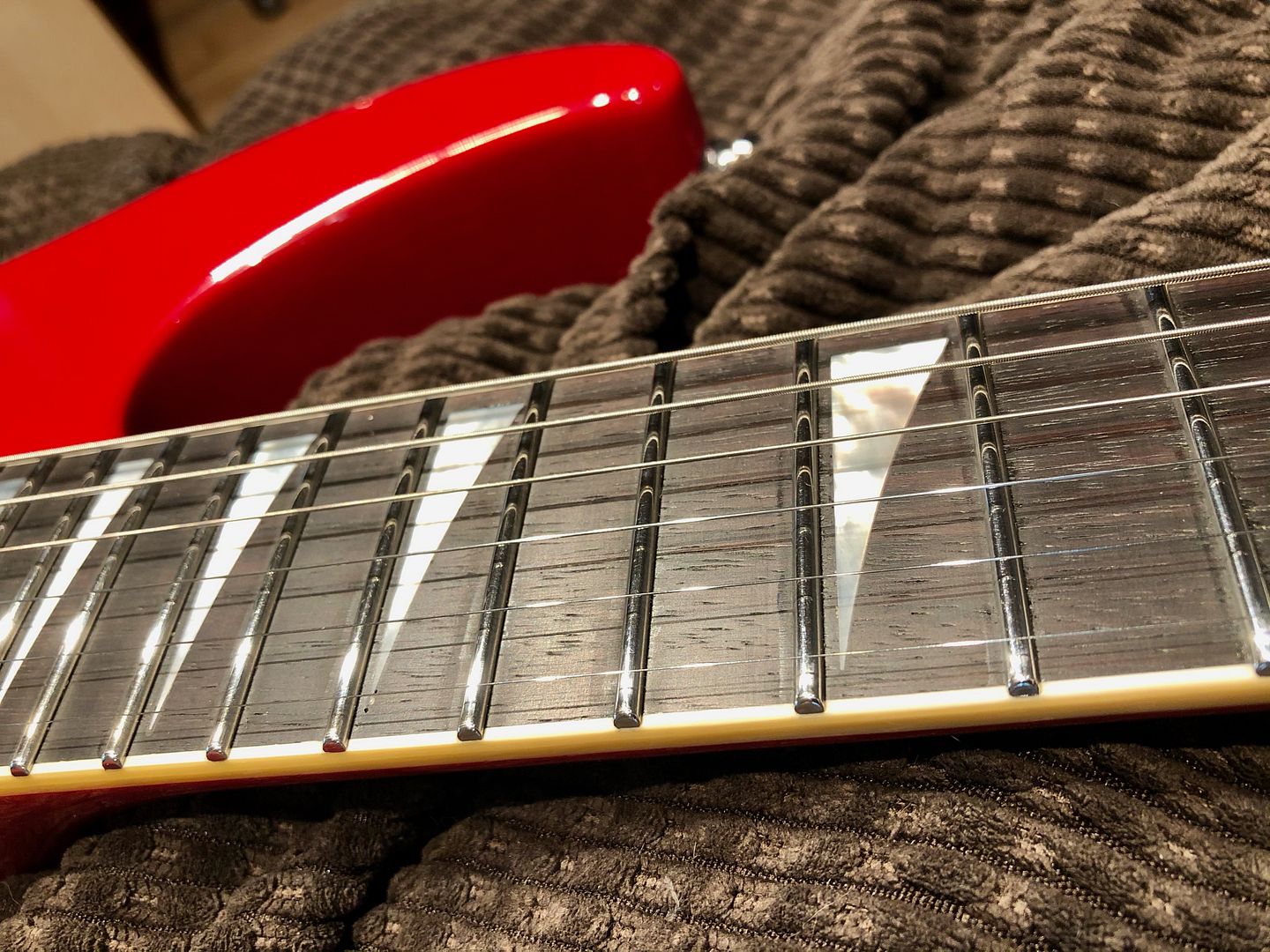 In the earlier part of the 33 years I'd owned it I really hadn't taken as good of care of it as I should have. In addition to allowing multiple dings, scratches and a few chips, I had lost the battery plate after taking it off one too many times as the thing goes through batteries like candy if you leave it plugged in. I got a hold of a new battery cavity cover online and the holes didn't quite match up so I did the old "cram toothpicks in the existing holes and re-drill' trick. The screws provided were high round tops, so I hit the hardware store for some flat top wood screws so they'd flush mount.
While the cover had been missing I had managed to catch some of the wiring on something and yanked off a solder lead somewhere. Tracked that down in the rats nest of active preamp wiring in there and soldered it back today.
The licenced Floyd trem on these is often maligned as it only goes down, and it's made out of pot metal. But once I replaced the pot metal bar (which snapped off at one point) it's always been rock solid with tuning, and I am quite used to the more stable (to me) feel of the bridge only going down (actually in my experience you can go up a half step pretty reliably but to a full step tuning does sometimes slip). These primordial Floyd's take a little more effort to push down, unlike the new full floating one on the DK24 that moves with incredible ease. Not saying one is better than the other there either, just making an observation.
One thing though, that clamp at the nut on the DK is now directly over the nut, That's fine, but the edges are really sharp! Like when you reach down and yank it up by the neck off a stand. It can dig into your index finger palm knuckle bone big time.
The Model 6 is locked after the nut and while your hand may still rub against it, it has smoothly rounded edges.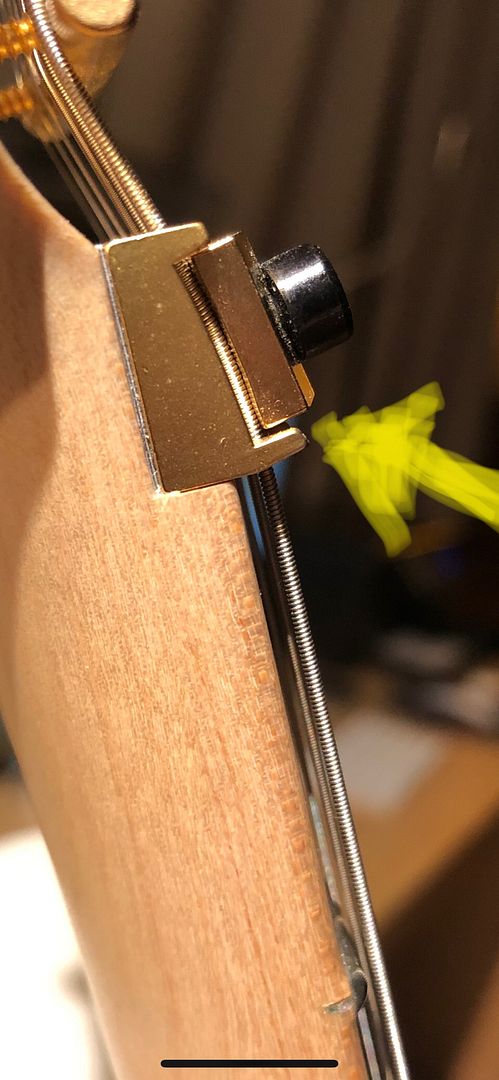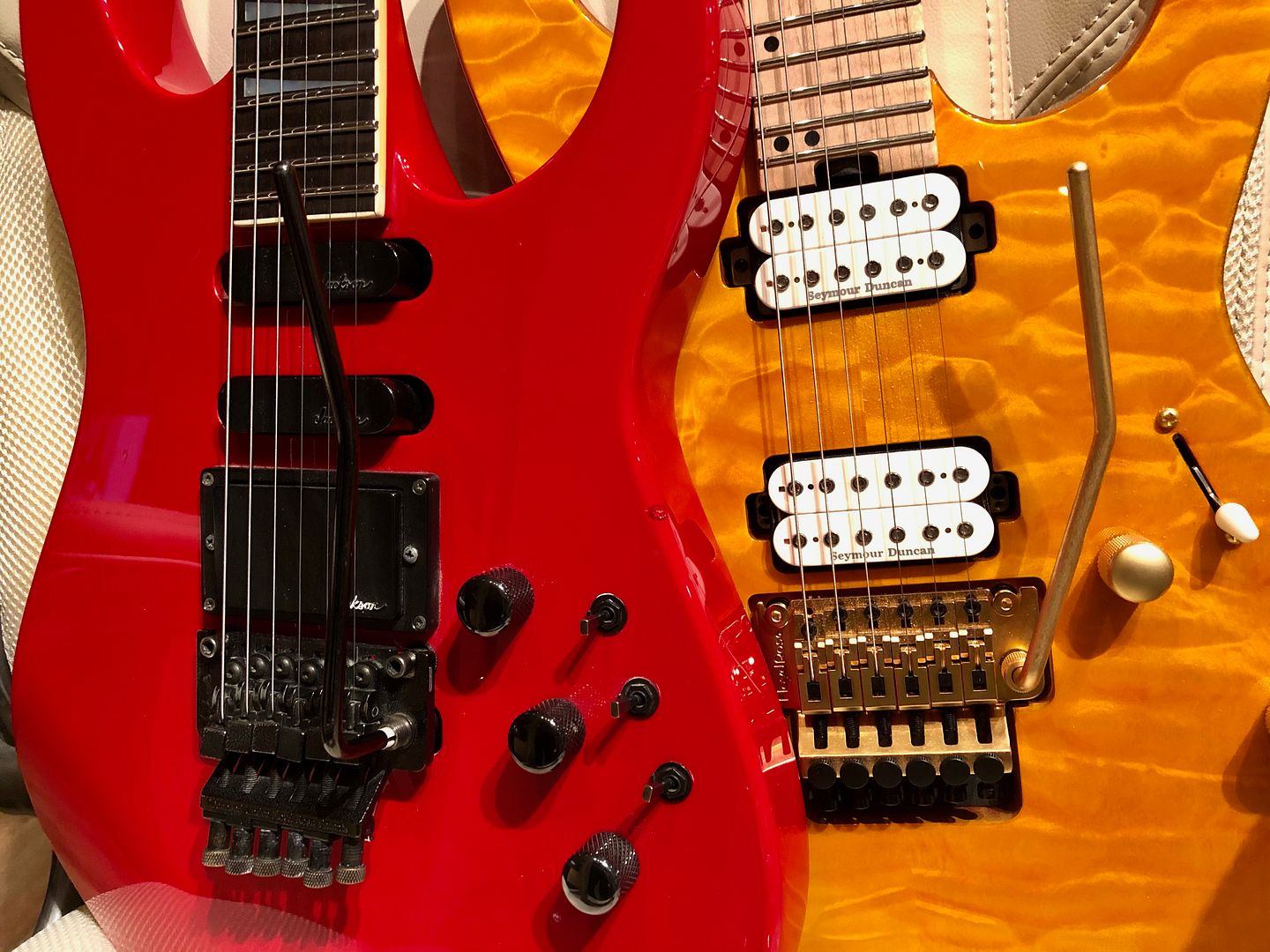 Once I got the Model 6 back up to snuff it made for an interesting comparison between the two: the thru-neck rosewood neck and the maple bolt-on. I had wanted a different flavor, and I am finding they really compliment each other. Unplugged it is quite apparent. The DK24 sounds great, strumming away on the 2020 sounded bright, mid-rangey and snappy acoustically as compared to the fuller more hi-fi and even toned Model 6.
Tried to buff out the paint a bit. Lookin sharp now and so nice to have it back in action!
__________________________________________________ _____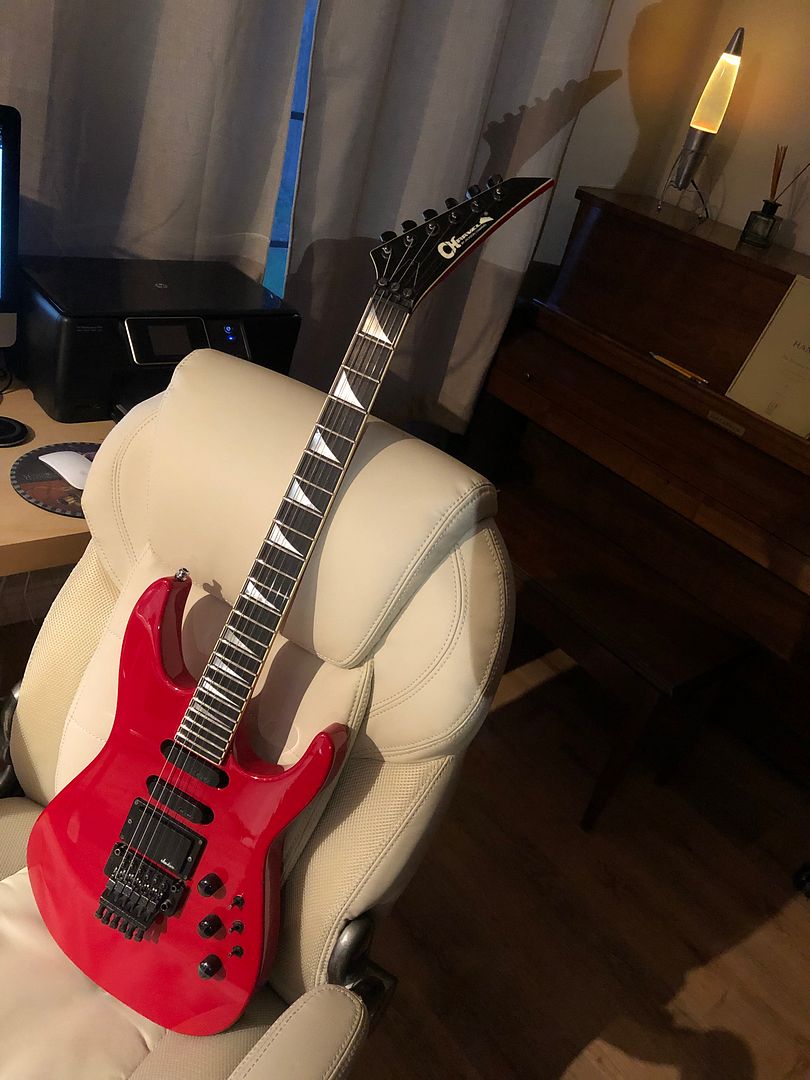 _________